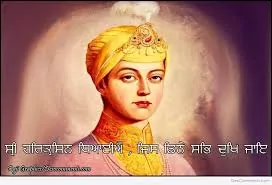 Art of selling your mind
MIND is the child of soul . Body is under full control of mind . However the mind suffers from the influence of five evils present inside us. The mind thus is affected by the pollution created by the evils . This also gives rise to duality in our thought process of the mind .
Duality also creates artificial bliss which prevents the mind to feel the necessity of enjoying true bliss state. Life is precious but under shadow of artificial bliss to mind one finds it difficult to appreciate this precious gift of GOD . SAINTS enjoy infinite bliss of LOVE of GOD because they are the children of GOD .
People with super level ego suffer from the feeling of enmity & envy them . Glory of GOD & the NAME divine is known to the hearts of SAINTS only . Can we really find a smart way to enjoy Infinite Bliss to mind & heart ? Yes !!!! How do we make a head start ?
Role of GURU comes to our rescue & facilitates us by holding our hand in this challenging world . The picture shows the personality of VIII NANAK i.e.
GURU HAR KRISHAN SAHIB
He attained this high position at a young age of just 5 years. AMAZING INDEED !!!! That means age is no criteria to attain infinite bliss. Prior to his advent , our ancient history highlights the example of great devotees i.e. PRAHLAD & DHROOV . These two persons got blessed at a young age of just 5 years by doing meditation i.e. by chanting GURU MANTRA !!!!! Their Guru Mantra was NARAYAN ….. NARAYAN !!!
That means the power lies in Guru Mantra but equally important is its chanting during ambrosial hours . Beginners need not bring in any kind of disturbance to their normal routine of waking up NOR need to worry about the wavering mind suffering from all kinds of pollution during the first week of making a beginning . But this chanting is to be done for 3 hours by sitting in sukhhasan with straight back after taking bath & keeping our eyes on the photo of our Guru/GOD.
We had Lord Raama, Lord Krishna , Lord Jesus & Baba NANAK during recent times . Their glimpse in photograph placed in front on a suitable platform at a height of 3 ft is fair enough to be looked at during chanting time. This facilitates in enjoying the company of GURU !!!!!
GURU/GOD is infinite bliss of LOVE of truth personified. During the childhood age our parents/teachers/saints advise us to speak the truth since it Facilitates us to become fearless . Fearlessness is the most important virtue of MIND . But over a period , we loose the power of speaking the truth & start telling lies which pollutes our mind . Hence we need empowerment from Guru/GOD to relearn the art of speaking the truth . This can be easily mastered by chanting of Guru Mantra in a matter of just 18 days . Mahabharat battle was won under directions of Lord Krishna in a matter of 18 days.
The situation is same of our mind & heart being impure as well . For which we need to sell our mind to Guru/GOD which takes only 18 days . However it is important to highlight the boon given by the greatest SAINT of last millennium to the humanity irrespective of religion i.e.
Baba Nand Singh Jee
Prior to this he chanted Mool Mantra for 35 million times in 12 years without sleep .
More details are shared on a separate blog posted (click here)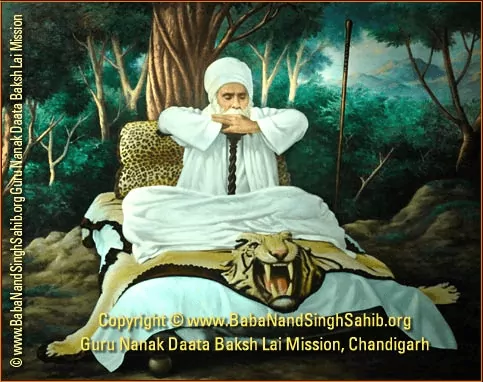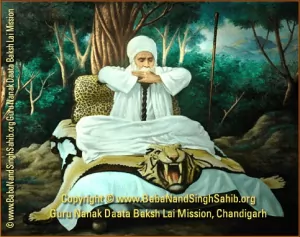 He left his mortal coil at the age of 75 years on 28 AUG 1943. There is a wonderful Gurudwara in his fond memory at Village Kaleran , Tehseel Jagraon , District Ludhiana Punjab India. There are 700 centers as well spread all over the world. Boon implies that results are guaranteed on the 19th day for all seekers. I say so since is based on personal experience & is not a bookish knowledge !!!
Chanting of Guru Mantra is aimed at selling your mind to Guru/GOD. It takes about 10 days ( or less or more) of effort to eliminate pollution of the mind . Chanting of mantra becomes a JOYFUL affair soon after two weeks period for the seekers .
This action might appear to be a mechanical affair for the beginners due to high level pollution suffered in the mind but it is not so . This is a kind of devotion & is needed for the seekers only . Others may find it as a rather difficult task but truly speaking it is a good effort since is needed for action only once in life time. Once the bliss has been experienced by the mind , it never wants to loose it . It purifies the heart as well !!!!
Bhagat KABEER JEE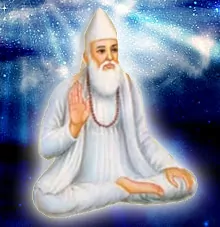 If we do introspection of the heart which is like a ocean , a seeker may find it as full of sins because absence of bliss to mind forces us to take our actions which are not desirable at home nor in the society .
The great revolutionary saint of recent times i.e. Bhagat KABEER JEE is so great in his blessings of LOVE to humanity that he gives his friendship instantly on our attempt of true introspection. His friendship implies that one gets infinite bliss state immediately.  Is it not a miraculous affair ????
However we find in GURBANI of KABEER JEE as highlighted in GURU GRANTH SAHIB the inspiration given by him ,
" RAAM JAPYYOO JEEOO AAISEY AASAIEY …….DHROOV PRAHLAD JAPPYYOO HARI JAISSEY…"
Powers of Guru Harkrishan Sahib
Powers of Guru Harkrishan Sahib were put to test by a highly learned person known as Pandit LAL CHAND . He was a resident of Village Panjokhara District Ambala . Village is about 10 K M from the railway station Ambala Cantt. While on way from Amritsar to Delhi during the year 1663 , Guru Harakrishan Sahib halted at village Panjokhra. Lal Chand mentioned to Guru Jee that Lord Krishna had directed Mahabharat war & is known as KRISHNA whereas your name reflects addition of Hari & your age is hardly 6 years. He felt & asked GURU ,
" If you could answer the meaning of geeta sloks told by Lord Krishna , I will feel satisfied of your powers as a true Guru ??"
To this GURU replied ,
" If I give answers to your questions , you will not be fully satisfied !!! However for your satisfaction , I suggest you bring any illiterate person & he will answer your questions ….O K " .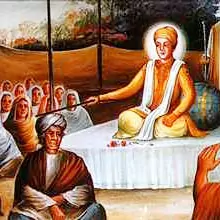 LAL CHAND responded to the suggestion & brought Mr CHAJJU JHEEVAR before GURU who was surrounded by the people in a gathering ( SANGAT ). Mr Chajju Jheevar was a grass cutter & was deaf as well as dumb . Next day , this man was brought after bath & wearing clean clothes before the Guru . GURU placed his hand stick over the head of Chajju Jhevar & instructed him to answer the questions of LAL CHAND. With the blessings of GURU , detailed answers were given of Geeta sloks put up by LAL CHAND !!!!
This satisfied Mr LAL CHAND & he bowed down to the GURU because of super powers of LOVE of Infinite Bliss enjoyed. Later on LAL CHAND became a true SIKH/KHALSA since blessed by GURU GOBIND SINGH JEE & became LAL SINGH . LAL SINGH fought in the battle field against Mugal Army & became a martyr on 07 DEC 1707. Village Panjokhra has a very beautiful GURUDWARA spread over in 7 Hectares of land in LOVE of the visit of GURU & is even much bigger than the famous GURUDWARA BANGLA SAHIB of NEW DELHI . Similar is the incident of testing of GURU by the wife/queen of King Jai Singh .
BANGLA SAHIB is the place of HAVELI / KOTHEE/HOUSE of King Jai Singh , where GURU stayed in DELHI & blessed the people suffering from Dengu fever at that time. Amrit is available to one & all even now known as BANGLA SAHIB GURUDEARA .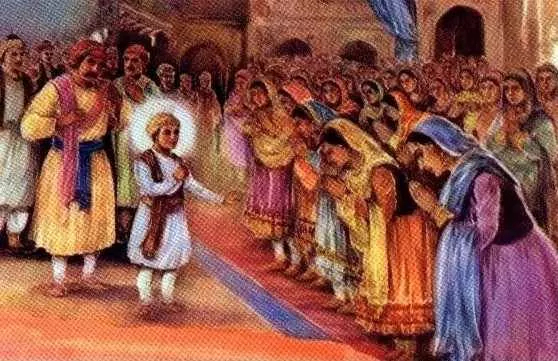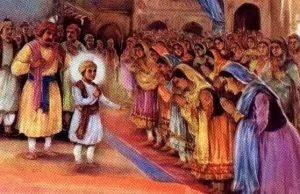 AIM of sharing the above historical incidents is that powers of GURU are INFINITE & blessings of LOVE of GURU given to Chajju Jhevar instantly can be obtained by one & all . All that one has to do is to try the 18 days SANJOG therapy by chanting of Guru Mantra .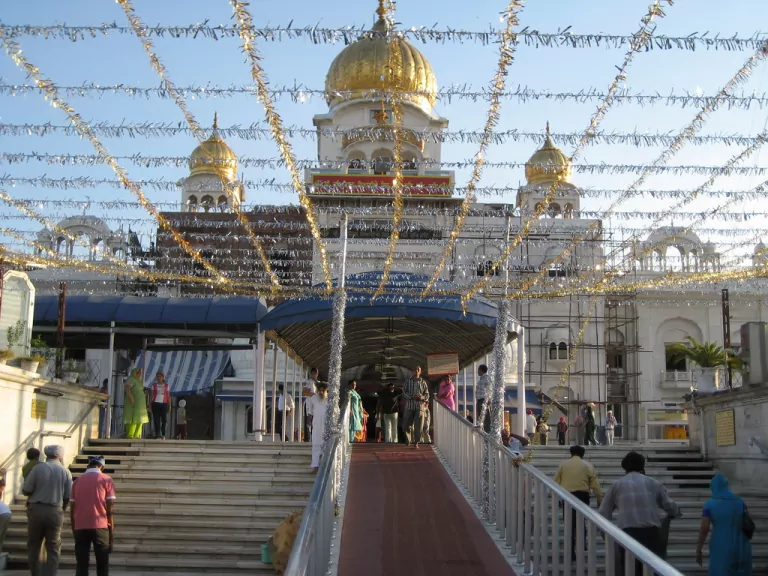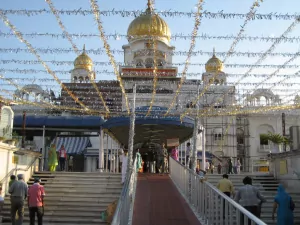 For sikhs , Guru Mantra is " WAHEGURU" whereas for others we find ," YAAH KHUDDAH" , " OM SAI RAM, " , OM NAMOO SHIVAI", " JAI SRI KRISHNA " , " JAI SRI RAM" , " GOD " etc…..Difference in YOG & SANJOG is that SANJOG connects you to GURU/GOD by super powers of MANTRA whereas YOG is being practiced for physical fitness . YOG therapy if connected with chanting of GURU MANTRA it becomes SANJOG therapy . By SANJOG therapy we succeed in selling our mind to GURU & thus it merges with the lotus feet of GURU. Mind now enjoys super powers of LOVE of GURU/GOD & this facilitates in increasing the learning intake powers of mind to Infinite level . The knowledge thus gained by the mind gives us that confidence which we all need in present challenging/competitive times to succeed in life.Selling of mind can be done during any stage of life. Once mind has been given as a gift of LOVE to GURU , we enjoy Infinite bliss of LOVE & remain JOYFUL at mind & heart since ego has been eliminated in this state………………….WAHEGURU