The trainer's profile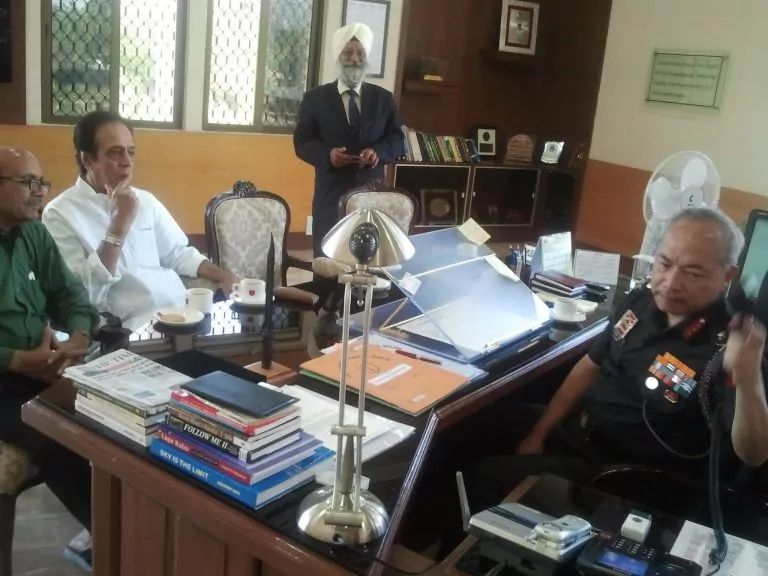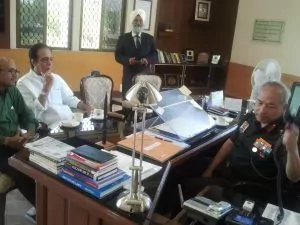 ( Ajeet Singh Mac, Formerly Major standing )
1. I am an engineer by profession with tremendous amount of experience & enjoy excellent communication power in English, telephonic, verbal and written. Was invited by CPWR & attend their conference held on 15Oct 2015 at Salt Lake City Utah USA.
2. As a training Major trained thousands (over 25000) of soldiers in the Army to master English language and made them excellent technicians.
3. It is my passion to inspire, motivate and interact with students to facilitate them to speak excellent English. I have held several motivational seminars in Schools, Colleges, IPSAcademy ,Kautilya Academy , NSS & NCC Camps etc…at Indore , Mumbai & Delhi benefiting over 7000 Students. I am a focused professional and know the art of dealing with CEOs of NGOS , Central government, State Government, Financial Institutions, and Corporate World.
4. I am a blogger on the Speaking Tree, a Times of India venture on spiritual awareness and empowerment & had earned 21 badges.
It has 28 blogs on various aspects of personality development using spiritual empowerment technique for guaranteed success………THE SMART WAY.
5. I have served in the Indian army for over 14 years with unblemished record of service as a Major in Corps of EME and participated in 1971 war.
(i) Thereafter on selection by PSC, State Govt. served as Sainik Welfare Officer of Indore and Ujjain Division for over six years till JAN 1993.
(ii) I was Chief Security Officer with Indo Rama & successfully handled the strike phase & prevented it from total destruction.
(iii) I joined as Executive Director with Mahindra Cement Ltd for two years till the year 1997 & helped them to exist in national interests without closure against pressure of MPAKVN .
(iiii) I was Managing Director of Damini Power Consultants Pvt. Ltd in alliance with Swedish Projects Inc. Washington DC USA, dealing in Power Projects Sector worth 25 Million Dollars on boot basis.
(v) I have participated on invitation as a representative from Madhya Pradesh in International Seminars on LOVE of philosophy of NAAM. As highlighted in GURU GRANTH SAHIB at GNDU Amritsar , City of Golden Temple in PUNJAB INDIA.
(vi) I was fortunate to be the Chief architect of holding a national level
Seminar on the philosophy of LOVE of Prabhu ka Naam at Indore in
DAVV Auditorium INDORE , Madhya Pradesh INDIA.
(vii) I joined Vidhhya Daan Mission wef 01 JAN 2016 at Indore directed
By Shri Sajay Dubey IAS , Commissioner INDORE DIVISION &
Adopted two Govt Middle Schools for teaching English . Feedback
From students & staff has been excellent.
(viii) I am now engaged as President Madhya Pradesh Veterans India for
restoration of respect of VETERANS in the society .
(ix) I was blessed by (Lord Krishna ) His Holiness Sathya Sai Baba on
25 MAY 1978 at 0400 hrs while serving on J & K Borders as a
CAPTAIN in 78 MED REGT which was witnessed by Sqn Ldr
SR Sharma for 7 minutes duration .
(x) I feel strongly & desire to highlight that I have overcome my ego to a fairly good extent.
6 My mission of life is to see that UNO is shifted to NEW DELHI latest by
13 APR 2019 which is based on super powers of LOVE of Guru Granth
Sahib& the principles of Gurbani of LOVE & thus succeed in bringing peace to the terror affected world of today.
7 Humanity of modern developed world desire to live in peace.
With SUPER powers of Divine Love
AJEET SINGH MAC
Formerly MAJOR
PRESIDENT
MADHYA PRADESH
VETERANS INDIA
INDORE-452014
Cell No 91 97556 48998
E Mail ID 77satkartar77@gmail.com