The greatest saint of last millenium
Introducing Baba Nand Singh Jee
It is a matter of great fortune to meet a true SAINT in life. Human life is simply a journey of JOY provided we feel  the urgency & importance of keeping our mind in a state of bliss. Mind suffers from influence  of different kinds of pollution in this wonderful world .
Our mind/brain is a kind of super computer but the five senses of our physical existence keep on giving it different flavors of artificial bliss of temporary nature. The charging of mind comes from our electron size soul giving energy to heart to beat to facilitate pumping of 2000  gallons of blood daily. The soul is GOD made particle but requires to be charged from the super powers of the light of love of truth. How do we succeed in charging this GOD particle has been a matter of research of saints since ancient times ever since this world was created.
A saintly person  has been defined by various religions of the world  in its own way . Christianity desires that the death of a saint must be succeeded by two miracles as a kind of evidence to certify the person as a saint. Aulia is another name given to a saint in Islam like we had " Khawaja Peer " of the city Ajmer , INDIA. Hindu religion is rich in its history of saints like we had , " Soordaas Jee & Tulsidaas Jee etc…" . Bhagat Kabeer Jee has been the greatest  revolutionary saint of recent times. However it is the need of the society  to know the personality of a saint since every member of the society is  blessed to enjoy " Infinite bliss of love of truth " inside their heart , mind & body . Sat Guru Nanak has given Gurbani to the humanity to appreciate the powers of love of GOD enjoyed by a saint . A saint enjoys the light of Naam which is again the greatest boon of Guru/God as a matter of nadar/grace. Sat Guru Nanak arrived on our planet over 545 years ago to bless the humanity & facilitated in their liberation suffering from the shallow knowledge  of love of God due to long slavery period .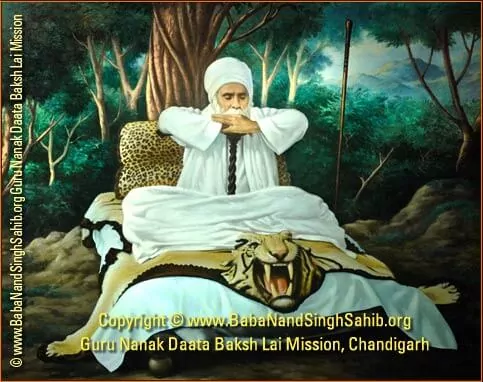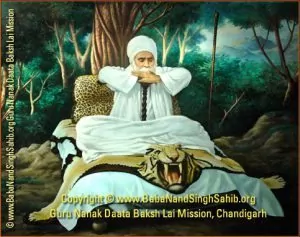 His Holiness Baba Nand Singh Jee was born on 28 Nov 1868 in the village Kaleron , Tehseel Jagraon , District Ludhiana Punjab Iindia & left his mortal coil on 28Aug 1943. At the time of starting his family profession of an artizen i.e. carpenter , he observed a miracle. The wooden structure  of lantern was  cut by him to  a smaller size by mistake, which puzzled him but while fitting it , he found that it got fitted as if was cut to to the exact size. In addition to this after leaving this profession , he felt very bad  during asking ( begging)  for lunch at the house of a family man since it was told to him that one should die before deciding to go for begging for food. This was the greatest shock of his life at a young age which ignited the fuel in his belly to meet GOD , the creator of this universe & thus enjoy his love. He served for one year in a Gurudwara at Roorkee , UP prior to move to Nander in Maharastra where he served as a loyal humble servant of Guru Gobind Singh Jee Maharaj. Every year Sachh Khand Darbar at Nander attracts over a million visitors from Punjab & rest of the world who come on pilgrimage to enjoy the glimpse of X Nanak.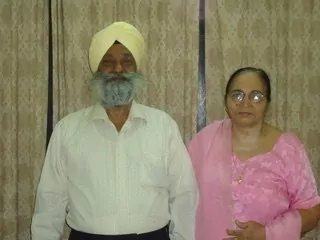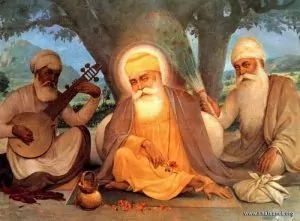 Baba Nand Singh Jee was inspired/blessed by Guru Jee  to move to Punjab from Nander for sharing his love of Guru with the people. However he got the fortune to meet his mentor i.e. His Holiness Baba Maha Harnaam Singh Jee ( 1787  to 1927 ) living at Village Bhuchhon Kalan , District Bhatinda, Punjab India , at the age of 23 years. Here he was blessed to meditate & recite Mool Mantra for 12 long years without sleep for a second . It is very difficult to imagine or appreciate this aspect of the developmental life of a person but is the light of truth. He successfully passed this difficult test but was also advised to read the Gurbani of Guru Granth Sahib in one year time prior to getting finally blessed with Naam Daan at the age of 35 years.
Enjoying NAAM is a state of JOY & amounts to a glimpse of the glittering Kingdom of GOD permanently i.e. Infinite bliss of Love of Truth.
Enjoying this experience even for a second during this journey of life is sufficient to bless us liberation from the cycle of death & birth . This has been guaranteed by Guru Gobind Singh Jee Maharaj.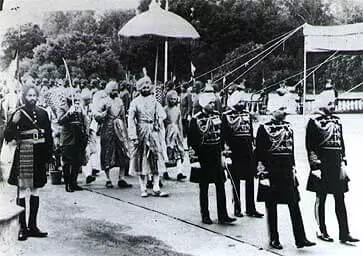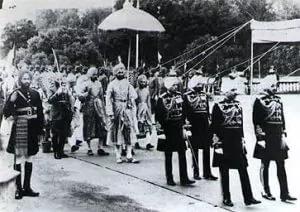 His new life now started in the world in a most humble manner with sharing  the treasure of Love of Guru/God with the humanity . Again it is  always a very big challenge  to deal with the people in the society without compromising one's own super powered bliss state of mind. The call/humble request of Maharaja of Patiala ( Prince Yadvendra Singh F/O Capt Amarinder Singh, Former Chief Minister of Punjab) was sent through the ambassdors since his father Maharaja Bhupinder Singh Jee  was suffering at his death bed for long. Doctors could not succeed in treating the ailing Maharaja Bhupinder Singh & lost all hopes of his further survival . Baba Nand Singh refused to go to meet the Maharaja thrice since clarified his stand not to move by saying ," Either a ciminal or a begger or a needy person alone goes to the door of a king ".  Baba Jee returned them with the instructions to hold 101 Sri Akhand Path Sahib of Guru Granth Sahib continuously & repeat it five times prior to move to Patiala. However the younger brother   of king finally routed the request through the Vidhya Guru of Baba Nand Singh Jee & bless the Maharaja to recite Waheguru mantra to breathe his last.
It is important to mention here that a blog has been posted by me on , "importance of Kaashee/Banaras/Varanasi of Uttar Pradesh " wherin it has been explained the process of move to Bekunth Dham of every person who breaths his last there. Since this part(piece of land) of our planet enjoys the Love  & blessings of Shankar Bhagwan Jee. Kindly have a look at it to appreciate the process of death . Other blogs posted are on the importance & value of enjoying state of Naam during the journey of precious life as a human being since the purpose of life is to  enjoy Love of God. God desires from us to live a life of pure bliss as per his wish. Universe is a big drama of Waheguru & he enjoys its play  to pass his time. We are his small toys & play at his tune.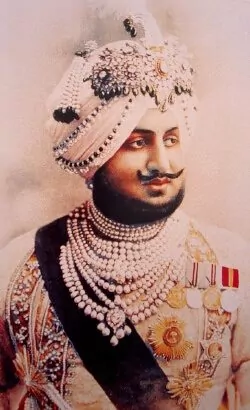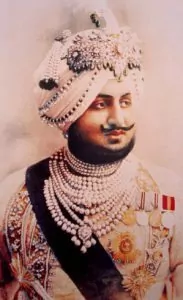 Baba Nand Singh Jee had no choice but to obey his Vidhya Guru & accordingly was escorted in a respectable manner as per his  convenience by the ambassdors of the Maharaja  to the palace in Patiala. Baba Jee blessed the king to recite Waheguru Mantra & directed him to do so  by closing his eyes who was weeping severely & repending on his mistakes/deeds of inhuman nature. The glimpse of Baba Jee to the king  was like meeting his lost friend/saint in life. Next day after this meeting , the king breathed his last. The guns were fired early morning for taking over as a king by Yadvendra Singh as Maharaja of Patiala.
Baba Nand Singh Jee spent over 40 years in spreading the fragrance of Love of God & shared his treasure with the humanity . He welcomed one & all from all religions during the 3 days of full moon in the sky i.e. pooranmashee ( one night prior to full moon , the full moon night & the next day) . He said that during these 72 hours all angels ( devatas) are in full swing to bless/support the seekers of truth & hence must ensure to get blessings for the rest of the month. There are over 251 incidents in his life wherein Baba Jee has shared/described the glory of Naam since Prabhu ka Naam is higher than God.
Gurbani confirms it ,
" Vaddah sahib uchha thaon
Uchhy uuppar uchha naon ………"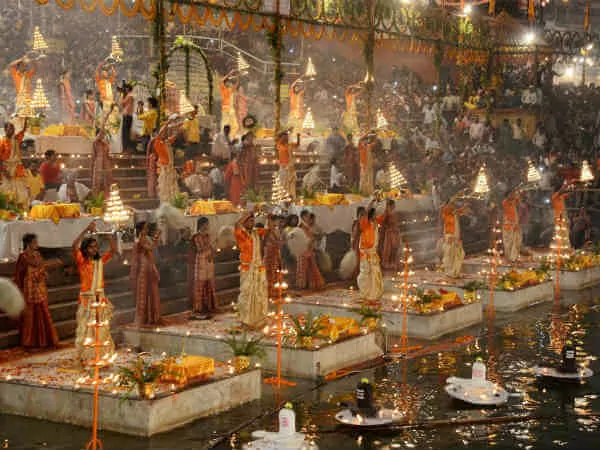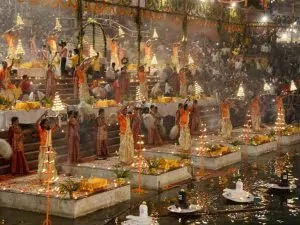 The biography of Baba Nand Singh Jee has been written in Gurmukhee by one of the associates of his time named Bhai Gurmukh Singh & is available in computerised font in  5 volumes. By reading this biography only once in life time , one gets blessed with bliss state in the forehead i.e. Crown Chakra        ( The whole part of brain above the line of eye brows converts into light ) . One succeeds with the grace of Guru  in moving from crown chakra to the spiritual heart i.e. JOY of a glimpse of the kingdom of God . This is a state of enjoying Satt Chitt Aanad forever in life .
Saints are the children of God & God has blessed their tongue since HE enjoys the honor to sit on it to ensure that their spoken word is honored in this world. Baba Jee was always for praise for the doctors in view of development made in medical science as well as for engineers for  making roads , bridges , rail network for the common man . Maharaja Yadvendra Singh was always nice & facilitated in advance Baba Nand Singh Jee  from all angels to organize & hold getherings in love of humanity . He even offered to Baba Jee his one year revenue of Rs 30 Million during the year 1941 to facilitate in making a university in his name but Baba Jee refused to take it . Shri Ghanshyam Das Birla also did not lag behind in his offer of Rs 1.25 lacs by cheque during a meeting in Delhi ( near Birla Mandir) in the year 1936 but Baba Jee pushed the cheque by his finger to ground & did not accept it. Baba Jee said that by taking it from these stalwards , the sewa/service by common man of food , soap & paste etc.. will get blocked. My  father , (Late)S Amrit Pal Singh Jee enjoyed the glimpse of Baba Jee at Delhi   during the year 1935,36-37. During his last days/months/years, I was fortunate to listen to him about his meeting Baba Jee.
Baba Jee's singular advise to one & all was to enjoy the love of Naam, simrann & reciting Guru Mantra at least for 3 hours daily. He said , " This is the promise made by the person during the stay in the mother's womb to God. Everday of the stay in mother's womb is like hell but no one has any  choice except to suffer for 9 months till birth. Mind of the person is constantly reciting Guru Mantra  in the mother's womb without a gap of a single second. Soul joins the body in the IV month of gestation period. Doctors have yet to discover this sound of simrann of Guru Mantra but our Guru has spelled it out clearly on all such aspects of human mind & soul  over 545 years ago through Gurbani  ." AMAZING INDEED!!!!.
Gurbani confirms ,
" Maatt garabhh main aapan simrann deh
Tehan tumm rakhhan haarey………….."
During the year 1939 , Sir Rai Bahadur Singh from Delhi asked for smart cut to enjoy the Love of GURU since it was/is difficult for every house holder to do simrann for 3 hours daily & how can one make a head start in that direction ? To this humble submission , Baba Jee were extremely kind to bless the humanity with 18 days therapy . This involves that one has to enjoy simrann activity for 3 hours daily with straight back after bath during ambrosial hours but  for 18 days at a stretch only once in life time. Guru blesses the seeker on the 19th day by sowing the seed of love of NAAM in the heart . Progressing further on the issue results in getting glimpse of Kingdom of GOD inside our spiritual heart . This glimpse ensures the feeling of JOY of permanent nature in life. BABA JEE were extremely kind to guarantee this result  !!!! It is the greatest boon for the humanity. Hence he is honored as the greatest saint of the last millennium. For more details I have posted a seperate blog ," Injection of God's love " on my website.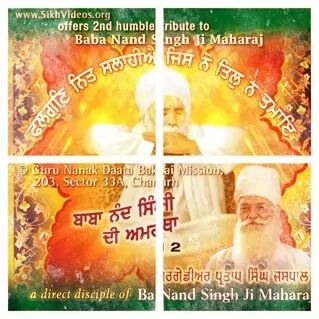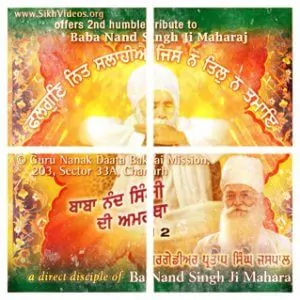 His Holiness Brig Pratap Singh (Retd) is the son of Rev. Baba (L)  Narendra Singh Jee , DIG (Winner of Queen's Gold Medal for bravery in performance of duty during partition days of 1947 ).
The blog is written not to boost my ego nor to disturb anybody's feelings but I tender humble apologies in advance. Aim is to share knowledge with seekers of truth at global level to facilitate bringing peace in the world.
With Divine Love
More video's for you to enjoy
View of internal beauty of Gurudwara at Nanaksar , main HQRS in Punjab Inia
is worth it since millions of pilgrims from all religions pay a visit to it & feel
blessed. It is a rare fortune to enjoy glimpse of this place specially on 28 AUG
each year.
with humble regards